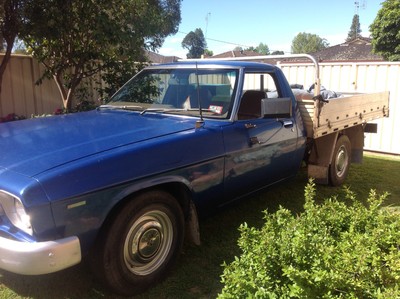 Milk and I have had an odd relationship. Memories of a seven year old. Mum breastfeeding my youngest brother in a neighbour's kitchen. Running up the hill from our little row of housing commission weatherboards in Hassett St, Leongatha with a billy for a quart of milk from the local dairy – not the milk factory, which stood on a hill in the distance wafting its sour milk smell over the town. Pushing nervously between Grandma's placid cows waiting their turn while she handmilked in the little post and thatch shed in the corner of the yard. Granddad was already up at the machinery shed and the path from the house took a short cut through the 'dairy'.
Walking home from Colac High and stopping for a spearmint thickshake. Cornflakes or weetbix and hot milk for breakfast all my young life, until I became a truck driver.
Banished to work on a dairy farm for a friend of a friend of Dad's during the summer break after my first year at uni, because he couldn't stand to have me at home – pregnant girlfriend, routinely drunk in college, failed Engineering. You get the picture. Ninety acres of lush, hilly country down Warrnambool way. Farmers, a brother and sister in their sixties in a mud brick house, the interior walls papered with pictures from the Womens Weekly, the young princesses Elizabeth and Margaret, the Wedding, the Coronation. Up every morning to walk the cows up the hill from the creek as the sun rose out of the mist. Milk, clean up, breakfast. Work on handyman stuff, or grubbing thistles during the day. Milk again in the evening. Dinner. Sleep. Bathing was for Saturdays if I didn't take a couple of hours off to go for a swim.
Hitchhike back to Colac for Saturday arvo/Sunday morning at home. Number 2 brother, I'm the oldest, wouldn't let me in the sleepout until I'd showered. Fleas! Or into Warrnambool to stay with friends from an earlier school, Hawkesdale, in their flat over the bakery. Saturday night dances at the surf club. Beer. And sometimes even, girls!
You know the next bit. The Moratorium, drop out of uni, drive trucks. No milk involved. A young marriage which I may not have previously mentioned. Its inevitable failure due to me being 'away'.
I met Ludmilla Agnes, Milly, now ex Mrs Legend, and the six month old Psyche at the end of 1977, fell in love, gave up trucking, lost a sales job, drove, rolled a truck in the Blue Mountains, Milly by now six months pregnant. Gave up trucking again and we bought a new one tonne Holden to do a milk run for a dairy in Manning, a Perth suburb 'south of the river'. That is south of the Swan, but on the Canning River which feeds into the Swan downstream of the city.
Remember home delivered milk? In glass bottles? The runs I had in Manning with its three bedroom red brick boxes and nearby Booragoon, all McMansions thirty years before the term was invented, took me about 4 hours, from 11pm or midnight, every milk box home to a redback spider and wolf spiders' webs spanning the gaps between trees, the big spider always in the centre, head high, to run into in the dark. If one of Milly's sisters was living with us, Milly might come out and we would do the run together, barefoot in the night, armloads of bottles, returning to the ute with notes and money to go into the bucket between us for later reconciliation.
Lou due, Mum and Dad come over from Melbourne. March is a month for birthdays and for mine and Mum's they shout us to the Oyster Beds in East Fremantle, then very posh. Lou was recalcitrant and after a week was to be induced, at 9.00 am in King Edwards, the main women's hospital.
I did the run as usual and retired for a couple of hours kip, only to be woken by Mum saying he's born and there's a problem. Into the hospital, mother and son well. He decided not to wait for the induction after all and was born on the trolley as Milly was being wheeled into the birthing room. So I missed that one. The next one, Gee, was a caesarean, which I saw up close and got to be first to hold her, mother being knocked out.
So. Into the hospital, mother and son well. He had a problem which needed surgery over the next 12 years but which is well behind him now. Arrived in time to eat Milly's substantial breakfast. Lou was immediately transferred to Princess Margaret's, the children's hospital, and Milly was given one of the rooms reserved for mothers down from the bush. I think they were there a week. Milly got told off for being in her night gown, her status as a new mother entirely ignored. I got told off for wandering in in shorts and singlet, no shoes. I would bring in the milk bucket and we would sit on her bed, counting and writing up the night's earnings.
A couple of years later, on my thirtieth birthday, I got a mild hepatitis, and that was the end of milk for me. The ute and I soldiered on as I developed a commercial traveller's run in truck spares around the southern half of the state, returned to school, became an accountant.
Oh yes, 'A Milk Run'. Multiple deliveries and pickups. I'm in Brisbane today by way of deliveries in Adelaide, Cobar and Toowoomba. Pick ups in Broken Hill and Cobar didn't eventuate but the journal was already half written in my head.
Eve by Iris Johansen is your standard US crime thriller with invincible CIA and FBI agents but is nevertheless interesting. There are four protagonists, Eve who reconstructs faces over skulls, her life partner Joe an FBI  agent, John Gallo, a former US Ranger and the father of Bonnie her abducted, long dead child, and Catherine, a CIA agent, though in this story they all act independently of their day jobs in the hunt for Bonnie's killer.
Nearly all the action is carried forward by dialogue, including sometimes the words and thoughts of their quarry, a serial killer who preys on children, which takes some endurance (for the reader/listener).
Secondly, this is one of many, many novels where US agencies are portrayed as out of control and corrupt. And yet this seems to have no effect on real world perceptions of these agencies (except for lefties like me). Strange.
Thirdly, and most interestingly, the 'heroic' actions of the men are generally portrayed as rage or jealousy-induced, testosterone driven while most of the thought and planning comes from the women.
In my playlist Eve was followed by A Passage to India, wonderfully well written, though a little stereotypical in its characterisations and again, the author's intent is to satirise 'strong' men.
I'd planned a full review of Tim Winton's The Turning before this but work intervened. Hopefully I will complete it today, but more likely next week.
Recent audiobooks
Ian McEwan (M, Eng), Sweet Tooth (2012)
Tim Winton (M, WA/Aust), The Turning (2004)
Sue Grafton (F, USA), W is for Wasted (2013)
Iris Johansen (F, USA), Eve (2011)
EM Forster (M, Eng), A Passage to India (1924)
Currently reading
Gerald Murnane, Border Districts
Cixin Liu, The Dark Forest, 2008 Finished! All 550pp.