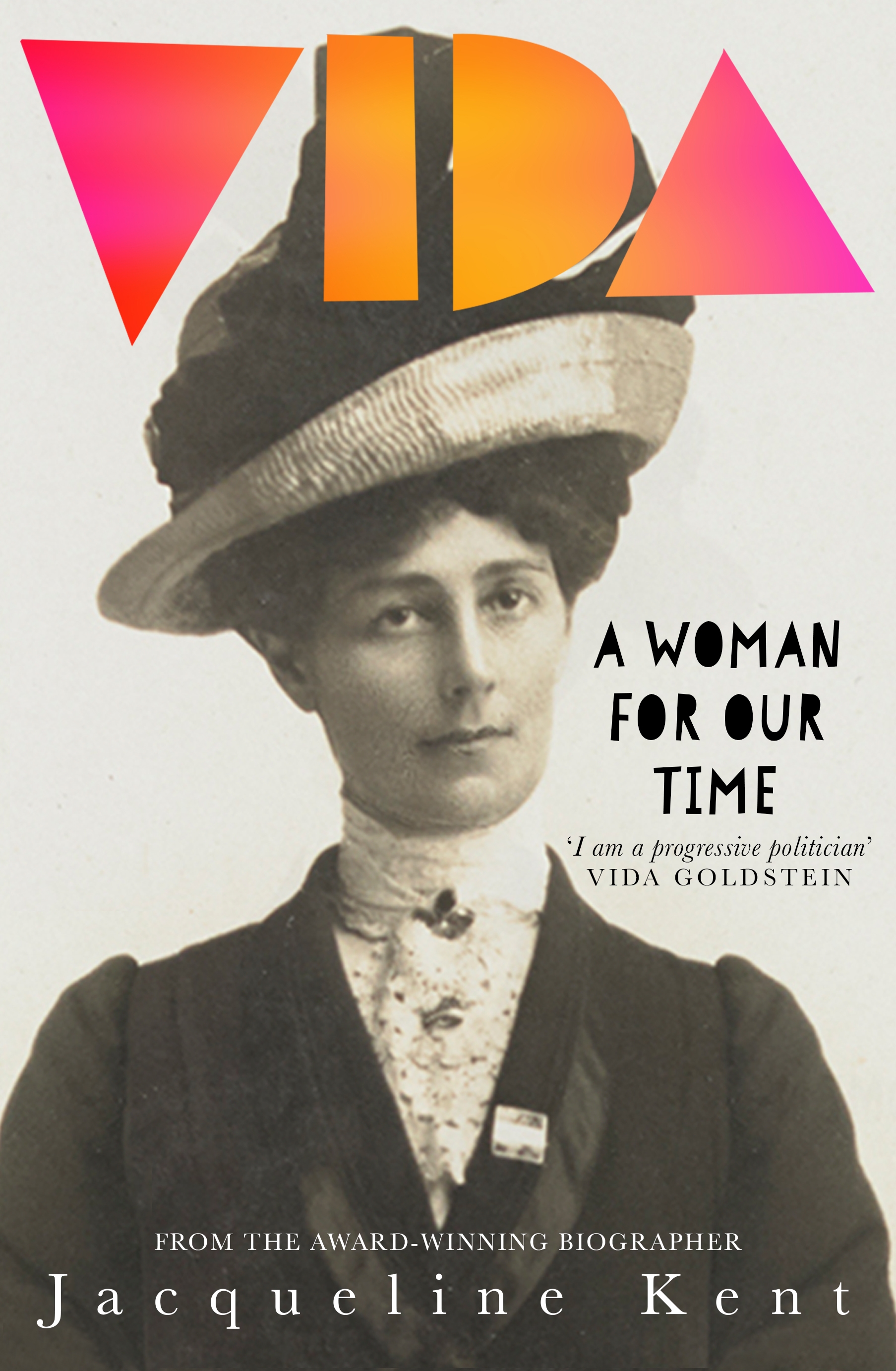 Given that I specialise in unmarried turn of the C20th women, Vida Goldstein (1869-1949) is one of my favourite people, and I have been meaning to read this recent (2020) biography for some time. I finally got it on BorrowBox and listened on the way over to Melbourne. I had a heap of deliveries throughout rural Victoria and had set aside Tuesday to get them finished, but as it turns out, I finished early, Mum is unvisitable in these Covid times, and so for once I had a day off. Hence this review.
Vida Goldstein was a suffragist, a pacifist and a socialist; she stood for Federal Parliament, unsuccessfully, three times; she undertook popular speaking tours of England and the US.
Kent's biography, and her reading of it, are pretty dry. There is none of the life which made Sylvia Martin's Passionate Friends for instance so enjoyable. Passionate Friends centres on Mabel Singleton and Mary Fullerton who were committee members of Goldstein's Women's Political Association, and on their friend, Miles Franklin, but provides lots of detail about early WPA meetings.
I imagine there are not many mistakes of fact, but Kent makes a couple in regards to Franklin, whom she claims for Vida as a significant friend. MF only lived in Melbourne, Goldstein's home town, once, in about 1904. The two met then – MF had introductions from Rose Scott, the Sydney suffragist with whom she had stayed in 1902 (see My Career Goes Bung) – and they remained lifelong correspondents. They met again, briefly, in 1911, when both were in London. And except maybe in later years when MF was back in Australia and moving around a bit, that was it.
For whatever reason MF didn't attend Goldstein's meetings in 1904 – she didn't meet Mary Fullerton until the 1920s. And in London they were attracted by different branches of the suffragist movement – not mentioned by Kent. Goldstein was a firm supporter of the Pankhursts' Suffragettes, until they took a pro-war stance in 1914; while Franklin was a member of a breakaway group – the Women's Freedom League.
What really got up my nose was the sentence which went "when she was about 20 Franklin's family moved from her birthplace Talbingo to Penrith" [then a country town on the outskirts of Sydney]. Talbingo was MF's birthplace, but it was her mother's mother's home. Mrs Franklin famously rode 60 miles through the snow to get there for the confinement. The Franklin's lived at the Franklin family property Brindabella until MF was 8 or 9, when Mr Franklin moved them all to a dairy farm nearer to Goulburn. My memory is that MF had already left home before the move to Penrith and was a trainee nurse, though she was familiar enough with the town to set her second published novel there, Some Everyday Folk and Dawn.
I don't have any more criticisms, well one small one, and a surprising one coming from me, Vida is overwhelmingly parochial, nothing important (in suffragism etc) seems to happen except in Victoria. (White) female suffrage was achieved in Victoria in 1908, in NSW and Federally in 1902, and in South Aust in 1894. Rose Scott and Louisa Lawson in Sydney are barely mentioned; Goldstein's struggling newspaper the Woman's Sphere is never compared with Lawson's much more successful Dawn. The mother of Australian suffragism, Catherine Helen Spence, a South Australian, does not come into it until she congratulates Goldstein after her first campaign for the Senate.
Kent awards Goldstein the accolade "the first woman [in the British Empire] to nominate for Federal Parliament", though eventually four women stood in that 1903 election; and Spence had been Australia's 'first female political candidate' when she stood for the Federal Convention in 1897.
I'll skip over Goldstein's adherence to Christian Science, which played an important part in her life, to the extent that when she retired from politics she became a minister. There were two questions in my mind, coming into this book: How did Vida get started? and what about Cecelia John?
Kent is discreet about John, whom Sylvia Martin implies might have been in a relationship with Goldstein. John was a flamboyant type, I picture her on a white charger with a green and purple standard leading a peace march (maybe in connection with the first conscription debate of WWI). When she came into the WPA she was quickly given responsible positions and the two travelled together to England. That's about it really. One time I wrote to Martin about one of her books and suggested John might be her next subject, but probably not.
So how did Vida get started? Her father, despite his surname, was an Irish protestant (his father was a Polish Jew). Her mother, Isabella, was from the Scottish/Australian squattocracy of Victoria's Western District. Mr Goldstein was in business, in rural Victoria and then in Melbourne and was able to send Vida to PLC, Melbourne's principal girls' school (other alumnae include Henry Handel Richardson and Nettie Palmer). Both parents were involved in charities and Isabella was with Annette Bear-Crawford in obtaining the funding for Melbourne's first women's hospital, the Queen Victoria, in 1897.
Initially, Vida and her sisters supported themselves by running a co-ed preparatory school. But Vida quickly discovered an aptitude for organizing and speaking alongside her mother and Bear-Crawford, and by the time the latter died unexpectedly in 1899, Vida Goldstein was undisputed leader of the radical women's movement in Victoria.
The book goes into some detail in relation to each of Vida's campaigns, for the Senate and for the House of Representatives seat of Kooyong; her attempts to get women's suffrage through the Victorian state parliament – always stymied by the upper house, the Legislative Council; her public speaking and her newspaper.
During the War Australian suffragists generally took a pacifist position and Goldstein received some flack about her name (its German-ness rather than its Jewishness). She seems to have become increasingly open about declaring herself a socialist, without ever abandoning her essential upper-middle-class persona.
This is a book I needed to read, for all its imperfections. I'm still a Vida fan and, while I might argue with her emphases, I'm sure Kent got the facts of her life right.
.
Jacqueline Kent, Vida, Viking, Melbourne, 2020.