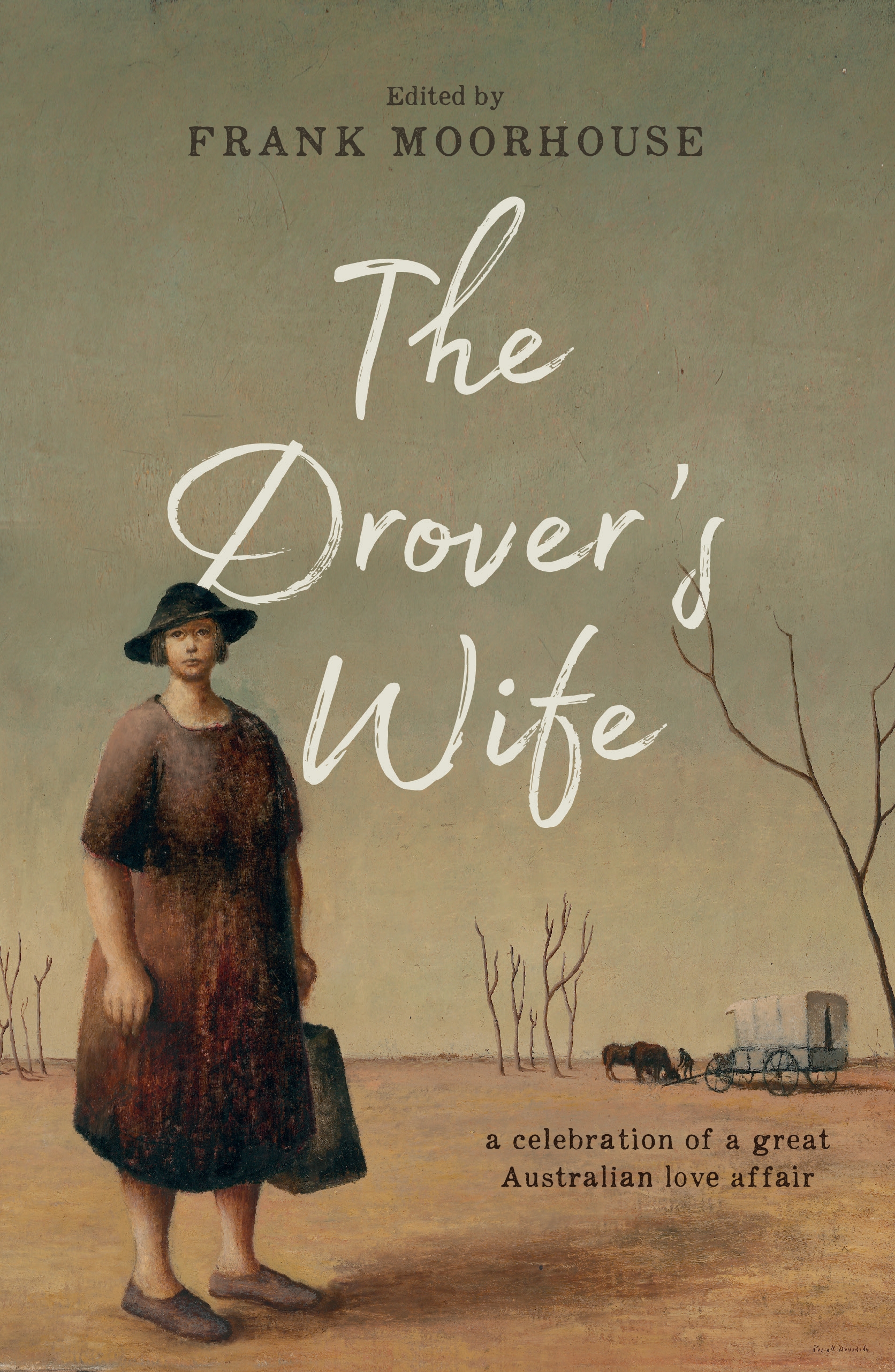 The cover painting above is Russell Drysdale's The Drover's Wife (1945) from a trip he made the previous year and his drawing A Drover's Camp near Deniliquin (1944). Deniliquin is in NSW, 80 km north of the Victorian border at Echuca. I have often been through that way, heading east to Conargo, Jerilderee, Wagga or north to Hay, Hillston, Bourke and on into outback Queensland, and drovers and their mobs of sheep are still a common sight. Twenty years ago, destitute, I seriously considered the merits of getting an old truck and a plywood caravan and travelling at walking pace as the sheep in my care grazed the back roads and byways of the Riverina. As it happens Milly saved me, for the time being anyway, and that's a story for another day.
Drysdale always claimed the naming of his painting was unconnected with the title of Australia's most famous story, but many have sought to connect the two, not least Murray Bail, who in his own The Drover's Wife (1975) claims that the big bodied woman is his (or more strictly, his dentist narrator's) missing wife.
In this book Frank Moorehouse brings together a whole collection of this, his own and other writers' stories and essays – on some of which I have already written (Louisa Lawson vs Kaye Schaffer, The Drover's De Facto) – to make a fascinating whole.
Let me attempt a brief chronological overview (Moorehouse's book is arranged thematically). The undoubted source of Henry Lawson's The Drover's Wife (read it here) is his mother, Louisa's early married life in the bush near Mudgee, NSW, her husband often away droving and prospecting. Louisa chucked it in in 1886 when Henry was about 19, moved to Sydney, bought a newspaper, and became a passionate advocate for women's rights. She was a loud forceful woman, Henry was not, and a great story teller.
Moorhouse includes an essay by Louisa, The Australian Bush-Woman (1889), see above, which discusses many of the elements of hardship and isolation which Henry includes in his story. Henry's The Drover's Wife first appeared in the Bulletin in 1892. Two years later Louisa used her presses to publish "a poorly printed collection" of Henry's stories entitled Short Stories in Prose and Verse. Then in 1896 Angus & Robertson brought out a more comprehensive collection, While the Billy Boils.
Academic Ryan O'Neill demonstrates how the Bulletin's house style moulded Lawson into one of world's great short story writers. He argues that the influence of the Bulletin's and Lawson's "Bush Realism" was to be hugely influential in Australian short fiction into the 1960s. Moorhouse looks at iterations in the text to interrogate Lawson's attitude to race. So, the B in Blacks is capitalised for the first time in the version the Lawson's printed, but is subsequently discarded, while the comic King Billy intercedes between the drover's wife and the Black midwife, Mary only in later versions and, according to Moorhouse, only after Lawson got feedback from his cronies down the pub. In a separate essay Matthews argues that Lawson was gay.
Lawson's genius was to both write within the Bulletin format and to rise above it, subtly – and not so subtly in The Drover's Wife – spreading his mother's first wave feminism, while all the time being upheld by men as the messiah of mateship. Men sought to emulate his laconic style, from Vance Palmer to Roger McDonald, but he was also influential with women, not least Miles Franklin and Eve Langley.
In lieu of interrogating this influence Moorhouse has included ten or so short stories which reference Lawson's story. I have already reviewed The Drover's De Facto; others include The Drover's Wife's Dog by SF writer Damien Broderick; a long story of a young woman's coming of age, Afraid of Waking It by Madeleine Watts, good but barely relevant; Murray Bail's story about the woman in the painting; and Moorhouse's own mock account of an Italian student's misreading of the Lawson and Bail stories and Drysdale's painting, which allocates to Australians the extreme affection for sheep usually ascribed to Kiwis.
There are some excellent photos of Drover's Wifes paintings, images from stage works, notably Leah Purcell's play (and also stage notes), and a wonderful pair of images titled the Drover's Wife, Urisino Bore (1958) of drover Ronald Kerr and his sixteen year old wife Mavis, married 39 weeks pregnant (by Jeff Carter (1928-2010)), and again in 2011 after more than 50 years together (and quite often apart, as is the case for all drovers' wives).
Sue/Whispering Gums has recently re-brought Barabara Jefferis (1917-2004) to our attention and her The Drover's Wife (1980) is a fitting story to end this review.
It ought to be set straight. All very well for them to spin yarns and make jokes but nobody has written any sense about me. nobody has even given me a name except one and he got it wrong and said I was called Hazel. The drover's wife, the doctor's wife, the butcher's wife. You wouldn't think of all the countries the one where women are the fewest would be the one where they don't exist, where men'll say 'the missus' sooner than give a name.
In a chronology I couldn't quite keep up with Jeffris' DW is first a kid from the backclocks of NSW who runs off with a dentist [the Murray Bail story]; runs into Henry Lawson – "so I told him a lot. Talked too much – must've – because some of it he took and turned into that story about the snake …", and the story about Mary, the Aboriginal midwife, and the story about the baby she lost – "That was the story I told Mr Lawson a long time afterwards, or at least the parts of it that were alright to tell a man." Meets and is painted by Mr Drysdale, and then there was Murray Bail "who must have known the dentist".
What I meant was to tell not so much about me and the drover and the dentist and the rest of them but about how women have a history, too, and about how the Bushman's Bible and the other papers only tell how half the world lives… We're not sheep or shadows, or silly saints the way Mr Lawson would have. There's more to us. More to me than any of them have written, if it comes to that.
But she still doesn't tell us her name.
Frank Moorhouse (ed.), The Drover's Wife, Knopf, Sydney, 2017
see also:
Brian Matthews, Louisa (review)
Bertha Lawson, My Henry Lawson (review)
Louisa Lawson vs Kaye Schaffer (here)
The Drover's De Facto (here)
Nancy Elin's review of Leah Purcell's play The Drover's Wife (here)
Lisa/ANZLitLovers reviewed Leah Purcell's novel The Drover's Wife (here)
---
AWW Gen 2 Week, 13-19 Jan. 2019
I've put up the first iteration of the AWW Gen 2 page (here) with links to reviews and posts by me, Lisa/ANZLL, Sue/Whispering Gums, Kim/Reading Matters and Brona's Books – check them out and see what else I can add – and links also to stories and novels readable as pdfs or downloadable to e-readers.
---