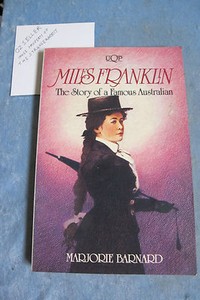 Stella Maria Sarah Miles Franklin was born on her maternal grandmother's property in the high country of southern NSW in 1879 – there's a line I could write in my sleep, this might be my 25th Miles Franklin post – after an epic ride by her mother through the snow from the Franklin property at Brindabella, south of present day Canberra, up into the mountains to the Lampe property at Talbingo.
Marjorie Barnard was 18 years younger (ADB). As I wrote a week or two ago, the two met in the early 1930s at the Fellowship of Australian Writers when Franklin returned from years abroad, in Chicago and London, to keep house for her recently widowed mother in Carlton, an inner Sydney suburb, where she stayed for the rest of her life.
Barnard's Miles Franklin: The Story of a Famous Australian was published in 1967, thirteen years after Franklin's death in 1954, and three years after the release of her papers though she doesn't appear to have made much use of them. This is a strictly literary biography with some reference to Franklin's childhood and only such references to Franklin's years in Chicago and London as Barnard gleaned from conversation with that unreliable witness, Miles Franklin.
The best references for Miles Franklin's years abroad, apart from Jill Roe's great work, are Verna Coleman's Her Unknown (Brilliant) Career (Chicago) and Sylvia Martin's Passionate Friends (London). Colin Roderick, who did have the advantage of Miles Franklin's papers – in which he himself appears in a less than glowing light – also wrote an MF biography, though as I've written elsewhere, not one worth reading.
Barnard and Franklin moved in the same circles for twenty years so Barnard knew her well and it is this acquaintanceship which informs the biography and Barnard's reading of MF's works, rather than any great research.
[Franklin] was spirited and provocative in conversation but her audacity smacked of the 1890's. All her daring had an antique air. She was, and remained, an enfant terrible. She might have shocked people by her forthrightness fifty years ago. She obviously thought that it would shock them still and felt a little snubbed when it did not.
Because she was vulnerable, Miles was secretive. There were other reasons too. She loved a mystery and used it partly as display and partly as cover… She was fiercely virginal yet even to the end of her life she was habitually flirtatious… She wanted to cut a figure in the world of literature, she wanted to hide… I am tempted to say that, like the spoilt child she once was, she still wanted everything her own way. The child lived on in the woman and was bitterly hurt by life.
All Franklin's best work is rooted in her adolescence, in her exile from her families' stations in the high country and in the lives of the men and women of her grandparents' generation who pioneered that country.
Franklin achieved instant success with My Brilliant Career (1901), wrote two follow-ups in the next couple of years without being published, wrote the mediocre Some Everyday Folk and Dawn (1909) and then as far as Barnard is concerned, disappeared from view for decades.
In fact, Franklin was in the US from 1906 to 1915, where she wrote two books of which Barnard seems entirely unaware The Net of Circumstance (1915) and On Dearborn Street (1981); then in London and Serbia during WWI – which she reported on extensively I think, though again Barnard is unaware, and I've seen no evidence that MF ever revisited this writing to have it collected; and then London, with one visit home around 1927, until about 1932 [I'm writing without access to Roe!] when she returned to Sydney for good.
Barnard devotes the first couple of chapters to Franklin's family and childhood with most of the material drawn from Franklin's own writing, Childhood at Brindabella (memoir), and My Brilliant Career and Cockatoos (autobiographical fiction). She deals briefly with Franklin's failure to find a publisher for My Career Goes Bung, and then moves on to the (mistaken) heart of her thesis 'Thirty Years in Exile'. Barnard looks to Ignez, the heroine of Cockatoos and the absent centre of Back to Bool Bool for an explanation.
The days in [the USA] were, in so far as the development of her special talents were concerned, wasted. She had fallen among reformers, and that for an artist is more fatal than for a merchant to fall among bandits. Her heart was frozen by a secret tragedy. [Back to Bool Bool]
MF did fall among reformers, the National Women's Trade Union League of America, and had to deal with the tragedies of the loss of her singing voice, which she had hoped to make her first career, and of the death back in Australia of her nearest sister, but she also continued to write both then and in London after the War.
I have written elsewhere that these were her middle years stylistically when she attempted contemporary fiction at which she proved to be less than good. Barnard treats the work written around 1925 and published much later as Prelude to Waking as Franklin's first attempt at returning to writing after a long hiatus.
Perhaps this book had to be written to get Miles into the habit of writing again. It did not have to be published.
I'm not clear whether by 1967 it was known for sure that Brent of Bin Bin was Miles Franklin. Barnard surmises that 'he' was and goes on to analyse in some depth the five books of the Up the Country saga published under the Brent of Bin Bin name, and then the books published under Franklin's own name: Bring the Monkey, Old Blastus and her crowning achievement, All That Swagger, all written in the space of ten years from 1926 to 1935.
At that point inspiration dried up. There followed her collaboration with Dymphna Cusack, Pioneers on Parade (1939), a biography of Joseph Furphy and a book of essays, Laughter not for a Cage arising out a lecture series at UWA, Perth. Franklin in fact quite often gave public talks in these last 20 years, but her career as a novelist was over.
This is a flawed work, the biographer too close to her subject, but nevertheless probably remains the best and most comprehensive treatment of Franklin's work.
Marjorie Barnard, Miles Franklin: The Story of a Famous Australian, Hill of Content, Melbourne, 1967 (the cover above at the time of writing, is from a UQP reprint, but I will replace it with a photo of the dustjacket of my own first edition when I eventually get home).
For more of my (and other bloggers') reviews and writing about Miles Franklin go to my Miles Franklin page (here)